Elimination Race powerd by Decathlon
The eight fastest swimmers in event 16, 200-meter medley female, and the eight fastest swimmers in event 17, 200-meter medley male, will qualify for the elimination race. In the finals, 50 meters will be swum in each of the butterfly, backstroke, breaststroke and freestyle medley events. The order will be drawn on the day of the competition. In each final heat, two swimmers will be eliminated, so that eight swimmers will start in the eighth final, six in the quarter final, four in the semi-final and two in the final.
Team Race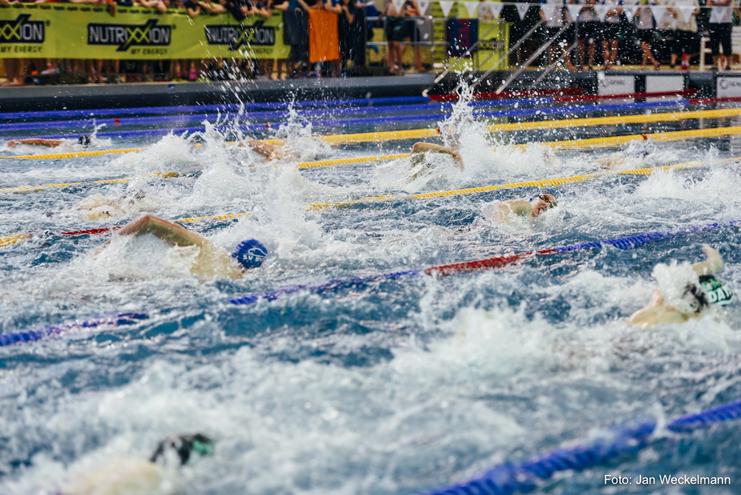 - 4 swimmers (2 female and 2 male) start on a start signal and swim close together (max. 5 meters apart).
- After 50 meters the first swimmer of each team gets out, the remaining three swimmers turn around and continue swimming in the same order one after the other.
- After 100 meters and 150 meters this process is repeated, so that on the last 50 meters the team race is decided by the last swimmers of the teams.
- During the race, overtaking is not allowed within the team; the hands of each swimmer must remain 5 meters behind the feet of the swimmer in front.
Ursula Happe Cup
Ursula Happe won the gold medal in the 200-meter breaststroke at the 1956 Olympic Games in Melbourne; she also held the world record over this distance. The trophy is awarded to the swimmer (open class) with the highest number of points according to the FINA table from the addition of the swum times over 50 (preliminary heat), 100 and 200 meters breaststroke. It is endowed with a cash prize of 100 euros.
Mini Cup
Swimmers born between 2010 and 2014 can participate in the "Mini Cup". For this purpose, at least three 50-meter distances must be swum. The winner of the "Mini-Cup" is the swimmer who has the highest number of points after adding the best three individual distances according to the FINA table. Results of the finals will not be taken into account.
Trophies and prizes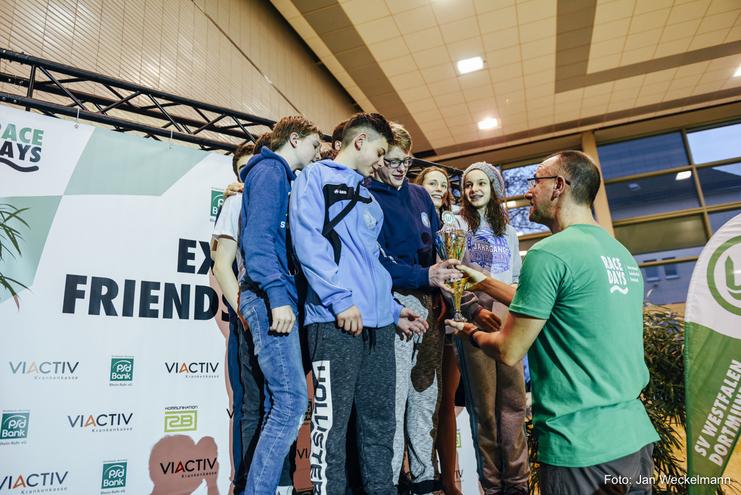 • For the best female and male performance of the event a cash prize of 50,00 Euro each will be offered (highest score according to FINA table)
• Cash prizes of 30,00, 20,00 and 10,00 Euro respectively for the first three places in the finals in the classification 2009 and older
• Trophies for the winners of the "Mini-Cup" - classifications (year classification).